Course details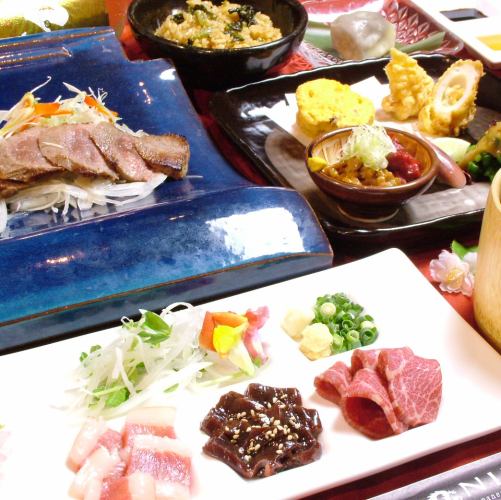 [Regional cuisine] [Course] 10 items + 180 minutes [Drinking] ⇒ 5000 yen ★ Soil only 120 minutes
By using a coupon5000 Yen
★ After 500 pm further 500 yen off! / Saturd only 120 minutes ★ Sunday - Friday · Holiday · 180 minutes / Saturday 120 minutes
10items

2

-

55persons

All-you-can-drink available

All you can drink menu
Ninja's mansion, Higo country.Original local cuisine course using local ingredients abundantly! All you can drink local Kumamoto drinks ★ The hospitality and banquets of distant guests are sure to be exciting!
Course menu
- menu -
Horses shabu salad
Assorted special horse sashimi
Sakura Natto
A word circulates
Shinji lotus root
Moromi
Horses skewers
Takana rice
squid soup
All 10 dumplings suddenly
* Purchasing situation / possibility of content change due to use of group
※ Inquiries about the course, when you make a reservation, please tell the staff a word "Look at the hot pepper gourmet"!
★ Sun - Fri · Holiday · 180 minutes before the holiday / 120 minutes only with the soil
All-you-can-drink menu
· Volume of kekkusen
· Giraffe Nodogoshi
· Shochu high volume
· Lemon / lime / green apple / grapefruit / giant peak / peach / plum / calpis / pomegranate / cassis / yuzu / oolong hi / green tea high
· Volume of fruit liquor (rock · water split · soda cracker)
· Plum wine / Yuzu plum wine / Green tea plum wine / Red plum wine of Shiso / Mango wine / Grapefruit sake / Giantpa sake / Sikhua sake liquor / Apple liquor / Momo wine / Apricot sake
· Volume of whiskey (rock · water split)
·whisky
· High Ball Volume
· High Ball / Cork High Ball / Ginger High Ball / Plum High Ball / Yuzu Hi Ball / Real Gold High Ball
· Volume of wine
· Grass wine (red) / glass wine (white) / carimocio (red wine × cola) / splitza (white wine × soda) / kitty (red wine × ginger ale) / operator (white wine × ginger ale)
· Volume of cocktail
· Red Eye / Gin Tonic / Jin Ricky / Jinbac / Moscow Mule / Bulldog / Salty Dog / Screwdriver / Shandigafuf / Matcha Milk / Kalua Milk / Tequila Sunrise / Cassis Oolong / Peach Oolong
· Volume of cocktail (Please choose your favorite combination)
· [Liqueur] Cassis · Strawberry · Peach · Yogurt · Lychee · Banana · Mango / 【Split Material】 Soda · Calpis · Orange · Grapefruit · Apple · Milk · Real Gold
· Smirnoff Cocktail
· Smirnoff Lemonade / Smirnoff Grepple / Smirnoff Gray Pie
· Volume of shochu (rock · water split · hot water split · oolong break · green tea split)
· Rice shochu / Potato shochu / wheat distilled spirit
· Sake of Japanese sake
· Cold / hot heat
· Winding of soft drinks
· Green tea / Calpis / Oolong tea / Ginger ale / Cola / Real gold / Milk / Calpis soda / 100% Orange juice / 100% Grapefruit juice / 100% Apple juice / 100% Tomato juice
· Volume of non alcoholic cocktail
· Non Alcacis Orange / Non Aluminum Big Finger Calic / Non Aluminum Limon Tonic / Non Aluminum Peach Orange / Non Al plum wine taste soda / Non al cassis Calpis / Non al casse Calpis / Non al aluy ginger / Non al Zakujin ginger / Non al cassis grapefruit / Non arachi peach grapefruit
Reservation deadline

Until 0:00 the day before the desired shop visit
Available days for reservation

Monday - Sunday - Public holidays - Holidays
Coupons that can be used with this course
2019/01/16 update